Guardian: Since launching in 2001, Apple's iPod has helped change the landscape of the music business and the mobile phone industry. Now one company hopes it could have the same affect on the car trade – by creating a vehicle that is controlled by using an iPhone.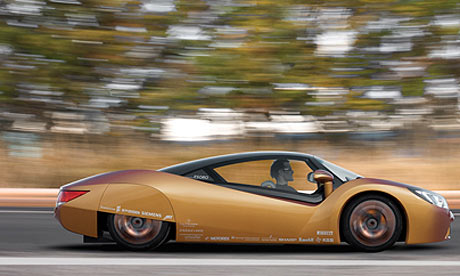 The idea might sound like science fiction, but Swiss design firm Rinspeed hopes that it can bring that fantasy one step closer to reality with a new concept design to be put on display at next week's Geneva Motor Show.
The entire vehicle, known as the iChange, is built around Apple's popular mobile handset, which hooks into the dashboard and acts as the car's key – locking and unlocking it, as well as turning on the engine and performing other vital functions.
The electric-powered model also boasts a shape-changing design that allows it to seat one, two or three passengers. On first glance, the iChange is a teardrop-shaped single seater sports car – but at the push of a button the rear opens up to offer another two seats.
The concept, which has been supported by the Swiss government, might seem far-fetched, but the team behind it say it is intended to stimulate the struggling car industry into innovative thinking.
top