Audioholics: After fielding question after question from readers and from listeners of AV Rant on which receiver to buy, I had amassed a bit of information on a lot of different receiver models. Why not combine this into a grid to help readers decode what exactly are the differences between the offerings from the various manufacturers?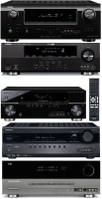 These units from Denon, Harman Kardon, Onkyo, Pioneer, and Yamaha represent the first tier in their receiver lines. Some manufacturers offer two different lines focused on different consumers.
Conclusion: Looking over the different offerings, it is clear that the final words should be "it depends."
You will have to decide if Zone 2 and iPod control is enough to push the Pioneer to the top of your list even through it doesn't do video upconversion.
Perhaps price is all that matters so the Yamaha is for you. Maybe you want all the features of the Denon but don't really need the upconversion so you go with the Onkyo. They all have their advantages and disadvantages.
What is clear, though, is that HDMI features really have trickled down. While only a year ago you couldn't get HD audio decoding on a receiver less that $500 (€350), now it is available at entry level.
Read the full comparison on Audioholics. 
top