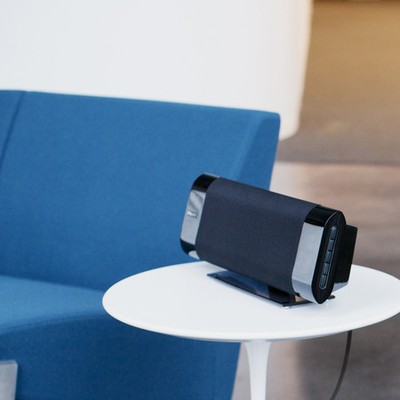 Audioholics: Like you, we are always looking for new ways to get audio around our home. Sure, using a whole home audio solution is the cleanest and sexiest option, but it is also the most expensive. Often, it is also the most complicated and requires the most knowledge. The most effective devices we have in our home theaters are the ones that even the layperson can operate. Sure, we may have every episode of Breaking Bad on our NAS, but our wife will still stream it from Hulu or Netflix because it makes sense to her. Never mind we have it in surround and can watch it in HD on the big screen, she'll watch from a computer on her lap or her phone.
Klipsch's new G-17 Air might be the new desktop system that makes the most sense for your whole home audio needs.
Housed in a sleek, black case, the G-17 Air sports two .75″ (1.9 cm) aluminum diaphragm compression drivers mated to dual 90° x 90° square Tractrix Horn-loaded tweeters. Each of the drivers has their own amplifier (20 watts each to the woofers, 10 watts each for the tweeters). There is a rear, side-firing port to increase bass response down to a spec'ed 57 Hz -3dB with a claim of usable bass down to 47 Hz. While we have mixed feels about horn-loaded tweeters in general, in a small speaker application like this, they make a lot of sense since they can put out a lot of output without a lot of power.
The high-gloss finish is courtesy of a 12-step cabinet finishing process transforming the infection molded polymer cabinet into a piece that will stand up to all the rest of your new high tech devises. Of course, the G-17 Air has a base for desktop mounting (this one constructed out of a dark tinted, tempered glass. But if you are looking for a more permanent placement, Klipsch has included dual keyhole mounts on the back. At 7.5 pounds, wall mounting shouldn't be a problem.
The G-17 Air is made for iDevice certified via its USB port (charges while connected). It also has a 3.5mm jack for other MP3 players. But its real claim to fame is its Apple AirPlay compatibility. This allows you to stream content from your iDevice (anything running iOS 4.2 or higher) or your iTunes from your computer (PC or Mac) over your home network. Not to leave out the other phones, any Android-base phone with the music player app can stream to the G-17 Air as well. Since even the most tech-unsavvy person has been able to figure out their iPhone, pressing a button to send it to the G-17 Air shouldn't present much of a problem. Add to that the portability of the system, and you have a whole-home system that you can take from room to room (or change locations for different events).
The big issue with the Klipsch G-17 Air is the price. At $550, it certainly isn't an impulse buy. It is also fairly limited without any outputs. We're sure there is measurable bass down to 47 Hz but we're not at all confident that it will be audible. Without the option of adding additional speakers or subwoofers, there isn't any way to make the G-17 Air sound better. But perhaps that isn't the point. A self-contained but limited unit is very likely to be all many people need. With the ease of use the Klipsch G-17 Air promises, you could have streamed audio into any room of your home. And $550 is certianly a lot less than you'd pay for speakers wired to each room.
Conclusion
The Klipsch G-17 Air has Apple AirPlay installed which allows you to stream content from your iDevice or Android device over your home network. This immediately allows you to have a multi-room audio setup without the hassle of installing speakers or even connecting to your home computer. Instead, all you need is iTunes on your PC or Mac or a compatible device. The downside is that there is no inherent networking or streaming nor any way to expand on the system. But if you are looking for a standalone Apple AirPlay equipped system, this very well may be it.
top