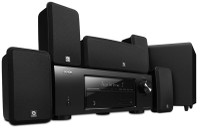 audioholics.com: When the DHT-1312BA Home Theater System came out, we were really excited. A full fledged (as in – actually sold separately) receiver with a 5.1 system from Boston Acoustics? It was more like a package deal than a traditional Home Theater in a Box (HTiB) solution. The problem was that we had very little information on the DHT-1312BA at the time. With the release of the DHT-1513BA, our enthusiasm is a bit tempered.
Once again, Denon and sister company Boston Acoustics have gotten together to bring you a unique HTiB solution. Denon has paired their entry level receiver, the AVR-1513, with the Boston Acoustics MCS 160 5.1 speaker system. This is the same speaker system from the last DHT system so little has changed on that front.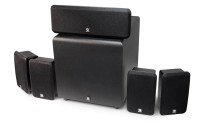 Now, however, we have more information on the Boston Acoustics MCS 160. The satellites and center are rated down to 120Hz with the sub rated up to 170Hz. This should allow the speakers and the satellites to blend well together. The sub is only rated down to 50Hz which, while not unexpected, isn't exactly impressive by bassaholic standards. But this system targets a more budget minded and casual listener type that would really dig the upgraded sound this system has to offer compared to the stock speakers in their display device. The Boston Acoustics speakers may be shelf or wall mounted and at 2.5lbs for the satellites and 4.6lbs for the center, either option shouldn't be a problem.
The speakers have a 0.5″ soft-dome tweeter and 3″ midrange drivers. The center sports two midranges while the satellites each have one. The subwoofer has a 100 watt internal amp mated with an 8″ high-excursion driver in a downfiring configuration. This should make placing the sub very easy (as will the 12-1/4 by 11-3/16 by 15-9/16 inches (H x W x D) dimensions).
The 17.2 lbs Denon AVR-1513 is the only real change in the DHT-1513BA over the DHT-1312BA. The AVR-1513 is a 5.1 receiver sporting 75 watts per channel. Denon has brought discrete circuitry even to this entry level receiver, something that was once reserved for higher end offerings. It has four HDMI inputs (three back, one front), supports 3D video pass-through, and has a front mounted 3.5mm input for portable audio players.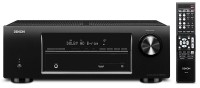 The back of the AVR-1513 is fairly spartan with spring-type speaker terminals for each of the five speakers and an RCA output for the subwoofer. There is a single digital audio input of each type, two RCA stereo analogue inputs, and two composite video inputs. This may severely limit the usability of the unit for those with devices that require anything other than an HDMI input. Of course, at this price point, there is no composite video to HDMI upconversion.
The front-mounted HDMI input is useful for on-the-fly swapping of devices like digital cameras or portable devices. The 3.5mm jack on the front will work with any portable device and, paired with Denon's Compressed Audio Restorer, should make your portable audio player's compressed files sound as good as possible. Lastly, Denon has included a GUI over HDMI interface for ease of use. This is a nice feature for those that may be too inexperienced to realize that menus have, until recently, required a second, non-HDMI cable to work.
Conclusion
What is key with the Denon DHT-1513BA is that you are getting a full fledged receiver (the Denon AVR-1513) along with a set of 5.1 speakers from Boston Acoustics. If this sounds more like a package deal than a HTiB, you are right. The AVR-1513 is on sale, separately, for $250. While the speaker system hasn't changed from previous DHT-1312BA, neither has the price. At $600, the DHT-1513BA has a lot going for it. While it is a bare-bones receiver, it has discrete amplification (75watts x 5), 3D pass-through, GUI over HDMI, and multiple HDMI inputs. That's more than you could expect from a lot of HTiB solutions. Add to that a nice "starter" set of speakers from Boston Acoustics, and you've got a no-brainer solution for those looking for a nice beginner setup.
For more information, please visit www.denon.com.
top