DigiTimes: Plasma TV sales declined for the first time in October in Japan, according to a survey by Japan's Business Computer News (BCN). Sales value of Plasma TVs in Japan dropped 1.9% on year in October, the research firm added.
Last November, Plasma TVs accounted for 97.3% of the large-size flat-panel TV market in Japan but the share of the segment dropped to 67.1% in November 2006, said the BCN. Meanwhile, LCD TV share grew rapidly to 32.9% over one year, added the research firm.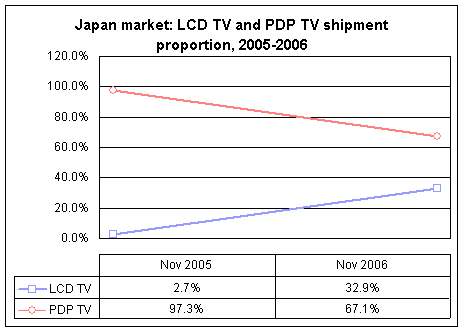 Plasma technology is facing more pressure from rival LCD in large-size TV market. Plasma TV used to dominate the 50-inch-and-larger flat-panel TV market, BCN pointed out.
Panasonic-brand accounted for over three fourths of plasma TV shipments in November in Japan whereas Sharp took over half of the LCD TV market in the same period in Japan.
Plasma TV makers will face more fierce competition in December, the research firm added.